Today, there are many multiplayer online games available to you on Android, iOS, and desktop platforms. But, out of all these games, one game truly stands out, and that game is none other than Among Us.
You might have heard of this game before, as it became popular in the year 2020. And even now, it continues to be incredibly popular due to regular updates and improvements. The best part of this game is it can be played on both your PC and mobile devices, which makes it accessible to a big audience.
While you can text chat with other players in Among Us, the game lacks the full interactivity of voice chat. That's why many players have chosen best Among Us Discord servers to connect and socialize with other players.
Read also:
On these servers, you can voice chat, join matches, share many ideas and strategies, and make new friends who share their love for the game. In fact, Discord servers have become the top place for Among Us players to hang out and have fun.
So, if you're looking for the ultimate gaming experience with Among Us, be sure to check out the best Discord servers we have listed in this article below.
What is Among Us Discord server?
Discord is a thrilling destination for gamers everywhere! This communication app is a hub for socializing, voice chatting, and making new friends in the gaming community. And if you're an Among Us fan, you're in for a treat. On a Discord Among Us server, you can find new matches and collaborate with like-minded players, sharing strategies and ideas.
In fact, did you know that in 2020, a whopping 70% Discord users in the year 2020 were gamers? About 7 million members are active on Discord every day. So you will easily find team members here with the same interests as you.
You might also like: How to play Among Us without app download.
But that's not all. When you join among us server discord, you have the opportunity to start streaming your games to different players while still having voice chats with them. This is possible because Discord has built-in features that make streaming easy.
So, if you're ready to level up your gaming experience, it's time to explore the best Discord servers for Among Us game.
Best Discord Servers List for Among Us in 2023
Here is a list of best Among Us Discord servers according to our research.
1. InnerSloth
Get ready to dive into the Among Us community! This is the place where the game's developers hang out and share everything about the game.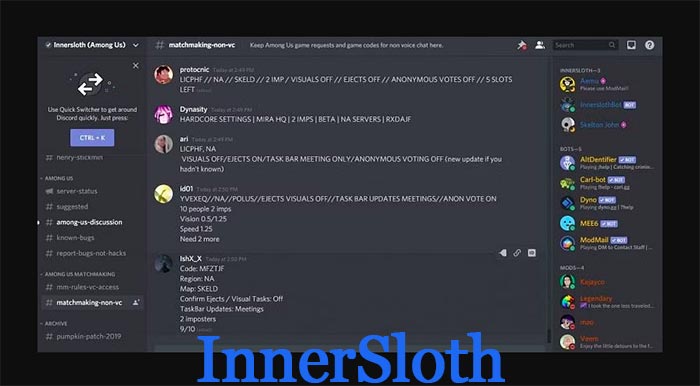 With over 400,000 members from all over the world, it's one of the biggest Among Us Discord servers around. Here, you can talk about tips, updates, and even spoil the game for yourself.
But the real magic happens when you join a group and play the game with voice chat on. It's like being in the same room as your crewmates, making the game way more interactive.
Just remember to follow the rules, or you might get kicked off the server. Overall, the Innersloth Discord server for Among Us is a must-visit for all Among Us fans. Trust us; you won't need to look anywhere else.
Join link: Click here to join
2. LFG Community
This thriving community is the place to be for all things gaming, including exciting giveaways and various fun activities. Get ready to share your hilarious memes, tune in to your favorite beats, and join in on lively events.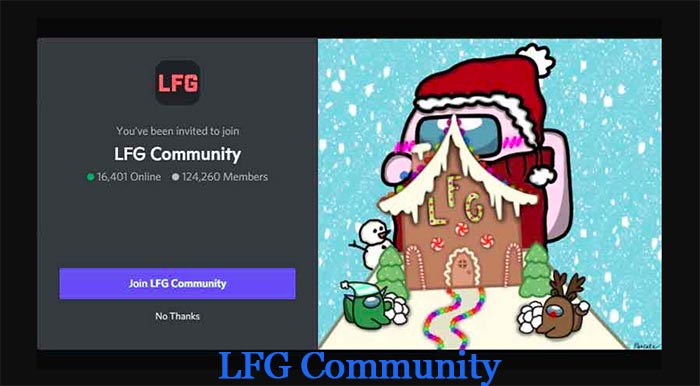 You'll have the opportunity to make new friends with like-minded gamers from all over the world.
At the time of writing, this discord among us server boasts an impressive 124,260 members and counting. And with more than 16,000 members online at any given moment, you're sure to find someone to play your favorite games with, be it Among Us or any other title.
So, whenever you're feeling ready to play, know that there's always someone waiting to join in on the fun.
Join link: Click here to join
3. Among Us Global
Among Us Global is a bustling Discord server with a massive community of players. With over 150,000 members and a rating of 4.4, you're guaranteed to have a positive and non-toxic gaming experience. And just like Innersloth, you can easily find others to play the game with through matchmaking.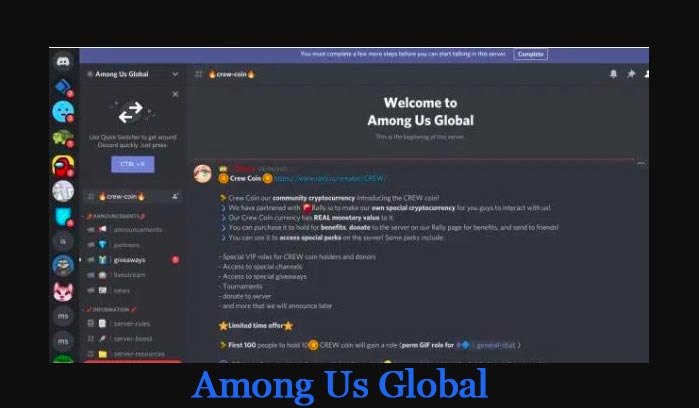 Not to mention, there are dedicated voice channels where you and your crewmates can chat while you play. And, speaking of chatting, this server also has plenty of chances to win free prizes, like the premium version of Among Us or even a Steam copy of the game.
In short, if you're looking for a fun and rewarding experience while playing Among Us, Among Us Global is the place to be.
Join link: Click here to join
4. Among Us
With over 535,000 members in the Among Us server, you'll have a diverse and global group of players to connect with. Among us discord server is especially great for those who enjoy gaming with players from their own region, as there are separate text channels for different areas of the world.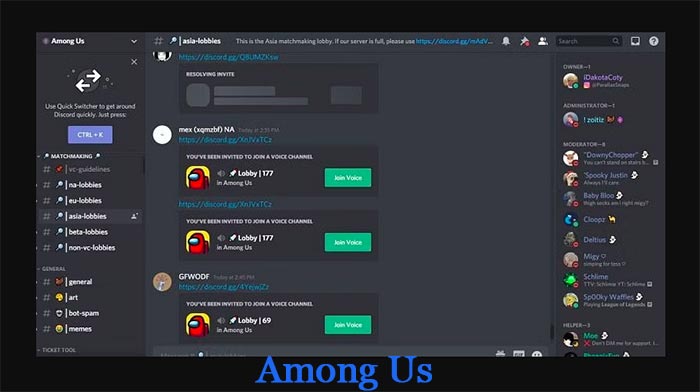 Among Us server has a whopping 180 voice lobbies which make it even easier to connect with others while you play. This is significantly more than what you'll find on the official Innersloth discord server, so you won't have to worry about being stuck in a crowded lobby.
Join link: Click here to join
5. Daddy
When it comes to playing games like Among Us, Daddy is the ultimate platform for you. With Daddy, you'll never have to worry about missing out on your favorite games.
It offers a wide range of channels for different games, including Among Us, so you can join and get started with others who share your passion.
The community is massive, boasting over 237,000 members who are always eager to play, chat, and share their gaming experiences.
Also read: How to redeem cosmetic codes in Among Us?
But Daddy isn't just any ordinary server – it's equipped with all sorts of useful tools and features to enhance your gaming experience.
You can make voice calls with other players, ask for support, and even watch anime. This makes Daddy a unique server that caters to all your gaming and entertainment needs.
Daddy allows you to create private groups too. This way, you can enjoy your games with the people you trust the most without any distractions.
All in all, Daddy is an excellent Discord Among Us server, and for all the other games you love.
Join link: Click here to join
6. Among Us Café
Join the fun at Among Us Café, where you'll find a bustling community of 170,000 members ready to play and make new friends.
This server is the perfect place to connect with other Among Us fans and find your perfect match. With voice and non-voice chat rooms to choose from, you can chat and team up with others at your own pace.
Not only can you find playmates here, but there are also plenty of events and activities to participate in.
So come on in and become a part of this vibrant and friendly community at the best Among Us Discord Café around!
Join link: Click here to join
7. Among Us India
Join the biggest Among Us party in India! Among Us India is the go-to Discord Among Us server for players in the country. With over 28,000 members, you'll never run out of playmates. You can chat with other players, use voice chat, and get help from bots.
And that's not all! Among Us India also has extra fun stuff like Karaoke VCs, game and music bots, and special rooms for Skribbl and Brawlhalla. Whether you're a seasoned player or just starting out, this lively community has something for everyone. So why wait? Join Among Us India today!
Join link: Click here to join
8. Excavice LFG
Excavice LFG is a bustling hub for Among Us players! With over 65,000 members, finding someone to play with is easy.
Simply head over to the "unlock-roles" channel and start searching for a partner. Once you've found someone, you can chat in the lobby until the game starts. The owner will share the code with you in the voice chat.
If you're looking for a quick game, you can also check out the "join-match-here" channel. People are always sharing their Among Us codes there. You can also find codes in the "lobby-codes" channel.
Join link: Click here to join
9. /r/Among Us
This is an official Among Us subreddit server with over 46,000 fellow players. Most of them are active all time, and you're sure to find someone to play with.
Simply select your role in the "role-select" channel to get started. This will give you access to all the great channels on the server. You'll see all the channels on the screen's left side.
But remember, you can't jump into the fun without first choosing a role. The server has many different channels, including the LFG channels, where you can share the link to an empty voice channel and invite people to play with you.
Join link: Click here to join
10. Among Us LFG
LFG is a community dedicated to the popular online multiplayer game, Among Us. This community is specifically designed for players who are seeking new and exciting groups to join from all over the world.
With over 175,000 active members, this community is one of the largest and most active groups of its kind.
However, this LFG community doesn't just provide an opportunity to join new groups and play with other players. It also has a few rules that are designed to maintain a positive and enjoyable atmosphere for everyone.
For example, the group does not tolerate any form of toxic behaviour, and there are always moderators online to enforce the rules and ensure everyone is following them.
Apart from playing, members of this community can also participate in regular giveaways where they can win exciting prizes organized by the moderators.
Join link: Click here to join
11. Among Us Discord
At the time of writing, the Among Us Discord server has approximately 550,000 active users. It's no surprise that this server is the second largest in its community. With so many text channels and voice lobbies, there's always something going on here that will catch your attention.
One of the most important parts of the server is the text channel. There are different regions for these channels so that you can connect with other players from your area. It's a great way to meet new people and start new friendships.
Another great feature of this server is the voice lobby. It has 180 voice lobbies. In fact, the number of voice lobbies on the server is even higher than the official server.
However, there is a small catch when it comes to voice lobbies. You have to wait for 10 minutes before you can send a message after joining the server.
This cooldown period confirms that everyone has a smooth and enjoyable experience while playing. But after 10 minutes, the real fun begins.
Join link: Click here to join
Conclusion
Finally, you have the best Among Us Discord servers list in 2023. Each server has its own unique features and strengths, such as large communities, voice chat options, and various events and activities.
Whether you want to connect with other players, join in on the fun, or find a non-toxic gaming environment, these servers are worth checking out.