Are you familiar with Among Us? It's a social game that players can play in groups of 14 to 15. The goal of the game is to repair a broken spaceship. It is available on both iOS and Android platforms. This game recently became very popular. This is mainly due to YouTubers and their followers who started playing it for fun.
Playing Among Us on a big screen can enhance the overall experience. The quality of the video and sound are much clearer, and the controls are more precise. If you're interested to know how to play Among Us on PC, let's go over the steps on how to do it.
Method 1. How to Download and Play Among Us without Emulators on Windows PC?
Among Us is now available to play on Windows PC, and you can enjoy the game without using emulators. While the process of getting the game onto your PC may be a bit complicated, it is worth it to be able to play it on a larger screen.
However, this method may come with a few steps, and some errors may occur while trying to run the game. It is best to leave this task to a professional if you find yourself facing any trouble. You can also check out this guide on how to play Among Us without app download.
How to Set Up Among Us on Windows PC?
Step 1: Acquire Game Files
Acquire all the necessary Among Us game files on your computer by visiting Upload Heaven. Once there, you can find all the required files for the game. Click on the "Among Us Free Download" link to start the process.
Step 2: Initiate Download
The files will begin downloading when you click the download option. This might take some time to complete. Once the download is finished, navigate to your PC's Download folder to get the files you just downloaded. Copy the Among Us game folder and put it on your desktop for easy access.
Step 3: Unzip The Downloaded Files
You will notice that the downloaded files are compressed in a zip file. Unzip the file, and they will only take up a little space on your computer.
Step 4: Run the Game
Open the folder where the Among Us game files are located, and read the manual guide 'How to Run The Game.' Follow all the instructions provided in the manual guide. Once done, you can open the Among Us game as an administrator and enjoy playing Among Us on your Windows PC.
You may like: How to redeem cosmetic codes in Among Us
Drawbacks of the PC Version of Among Us
The PC version of Among Us has a few disadvantages before deciding to play on a computer. Firstly, the game only runs directly on a PC with some technical management of the files. To run the game smoothly, you must install Steam first. Otherwise, You have to face difficulties if you try to run the game without installing Steam.
Another common issue when playing Among Us on PC is the occurrence of DLL errors. These errors are often caused by not using an emulator, and they can be difficult to fix.
You must locate and install five specific files within the game folder to resolve this issue. Without doing so, the game won't be able to run. While playing Among Us on PC is possible, it is not as straightforward as other methods.
You may also read: what are Among Us characters and what is the best Discord server for players?
Method 2. How to Play Among US on PC using Emulator?
An emulator is a great way to play Among Us on a PC and avoid errors. This discussion will explore the top emulators for playing Among Us on a computer.
BlueStacks Emulator
One of the most well-known emulator is BlueStacks. It lets you play many mobile games on your Windows PC. It's not only for games. It also allows you to use other mobile apps on your PC. But be careful to download BlueStacks from its official website.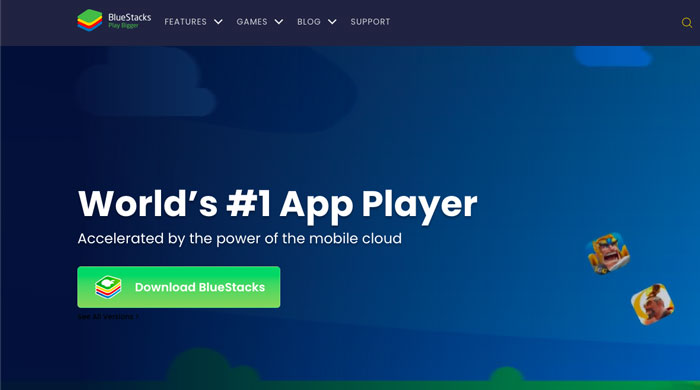 BlueStacks updates its versions as technology improves and meets users' needs. The newest versions are BlueStacks 4 and 5. They are more advanced and faster than before.
How to Play Among Us Using BlueStacks
Step 1: Get BlueStacks
First, download and install BlueStacks on your PC and open it with your Gmail account.
Step 2: Find Among Us
In the screen's search bar at the top right corner, search for 'Among Us' and download it for your PC.
Step 3: Start Playing
Click the Among Us play button to start the game.
BlueStacks have pros, it is a free app, but you can buy it if you want. Cons are it may crash sometimes and might detect a virus; also, it needs a graphic card to run the game effectively.
GameLoop
GameLoop is another way to play Among Us on a PC. It is an Android emulator for PCs that lets you play many mobile games for free on your Windows PC.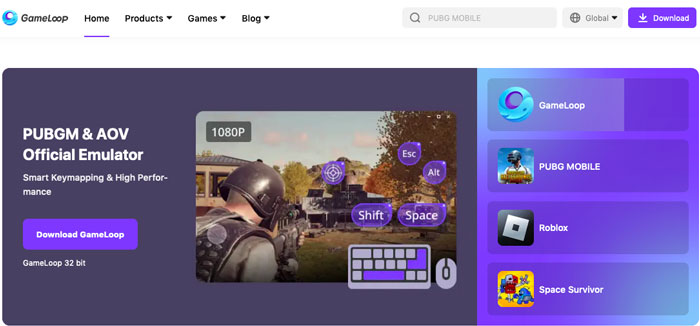 Like other emulators, GameLoop is a free method to play Among Us on a PC. Though it has a few issues, you can handle them. GameLoop doesn't require high specifications to run on your Windows PC. That's why many users prefer it.
How to play Among Us using GameLoop
Step 1: Get GameLoop
Go to GameLoop's official website and download it to install it on your PC.
Step 2: Sign in and Search
Sign in with your Google account and search for the Among Us game on the search bar.
Step 3: Download and Play
After finding the game, download it and start playing without interruption.
GameLoop has pros in that it needs minimal system requirements to run the game, and cons are it may sometimes crash while playing games.
Method 3. How to Play Among Us on PC via Phone Mirror
If you're looking for a way to play Among Us on your PC without downloading an emulator or even downloading the game itself, then you can use Phone Mirror by Tenorshare.
This method allows you to mirror your Android phone's screen to your PC, allowing you to play any game on a larger screen with the help of key mapping. Phone Mirror is compatible with both Mac and Windows.
Here's how you can use Phone Mirror to play Among Us on your PC:
First, download and run Phone Mirror on your PC, then connect your PC to your Android phone using a USB cable.
Next, you'll need to enable USB debugging on your Android device. The screen will provide instructions on how to do this.
Once USB debugging is enabled, your Android screen will be mirrored on your computer screen instantly.
Download and install the Phone Mirror application on your Android device to enable the Game Keyboard option.
Open the game, Among Us, on your Android device, and click the Game Keyboard icon in the right toolbar. The default key mapping will be shown, and no additional settings are required. Now you can play Among Us on your PC, and enjoy the larger screen.
Method 4: How to Play Among Us by Using AirDroid Cast?
AirDroid Cast is another option to play the Among Us on your Windows PC without any distractions. This powerful tool allows you to easily cast and control your iOS and Android devices on your Windows PC with minimal effort.
One of the biggest advantages of AirDroid Cast is its fast connection time, taking only 5 minutes to set up. It's becoming very popular for streaming various online games, particularly due to its high-quality HD results and excellent sound quality that enhances the gaming experience. The setup process for AirDroid Cast is user-friendly and offers multiple modes to establish a secure connection between PC and your phone.
How to Set Up AirDroid Cast?
Setting up AirDroid Cast to play Among Us on your Windows PC is a straightforward process. Here's a step-by-step guide on how to do it:
Step 1: Downloading and Installing AirDroid Cast
To begin, you have to download and install the AirDroid Cast app on the mobile device where you will cast the screen. You can download the app by clicking on the "Try It Free" green button or visiting its official web page.
Step 2: Establish a Secure Connection between Devices
Once the application is downloaded, you can establish a secure connection between the computer and your phone. AirDroid Cast offers three common methods to connect:
Wireless: Selecting the "wireless" option will give you a caste code and a QR code on your computer screen. Manually enter the Cast Code or you can scan the QR code on your phone to connect. You will then receive a notification asking for permission to cast. Allow the permission, and you will be able to share your screen.
AirPlay: Only iOS devices have this Airplay option. Just drag your iPhone screen down and press the "Screen mirroring" option and a list will appear. You can then select "AirDroid Cast -XXX" there.
USB Cable: To connect your mobile device to your PC using a USB cable, you must first plug the cable into both devices and enable USB debugging on your mobile. Then, on your PC, select the 'Cable' option and choose your device from the list of available options.
Step 3: Begin Screen Sharing for Among Us on PC
Once the connection is established, you can control your mobile screen on your PC by clicking on the hand icon in the interface. After completing some necessary settings to activate the control feature, you will be able to start playing Among Us on your computer.
Pros:
When using AirDroid Cast to play games, there are no issues or glitches that occur, and the connection is established quickly within just five minutes.
The video casting quality is high definition, and the audio is optimal for playing online games.
This application can also be used for online teaching, giving presentations, holding remote meetings for clients, and more.
Final Verdict
While the 'Among Us' game is already available for PCs, it can sometimes be challenging to run due to technical difficulties. Therefore, we recommend considering alternative methods to play the game.
We suggest using a program called AirDroid Cast as a more practical and straightforward solution for playing Among Us on a Windows PC, as it provides better controls and superior visual and audio quality compared to emulators. You can also check out Among Us guides available on our blog.